Latest digital marketing insights and resources.
Subscribe to Aloha's blog and knowledge sharing now.
Evaluation on SEO Tools: Comparing Google Search Console and Aloha Quanery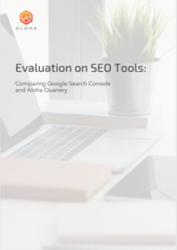 Check out our latest report to compare the benefits of Google Search Console and Quanery, and master how you could leverage data drawn from the tools to start building a solid foundation of your brand's digital presence:
The report compares Google Search Console and Quanery based on:
Amount of organic data collection
Key features and functions
By registering, you agree to the processing of your personal data by Aloha as described in the Privacy Statement.