With thousands of agencies and hundreds of lists for the best SEO companies, it's tough to find the right agency for your business. Learn about how to find a trusted partner for your business, plus get insight into our services, process, and more!
There are more than 80,000 searches happening on Google every second (Internet live stats, 2021).
In recent research by analyzing over 80 million keywords and billions of search results, the average click-through rate (CTR) for the first result is 28.5%, but the CTR drops sharply after position one. What's also worth noticing is that users rarely venture into the 2nd page of search results. It's possible that if they can't find their desired results on the first page, they'll end up changing the query, instead of proceeding to the second page.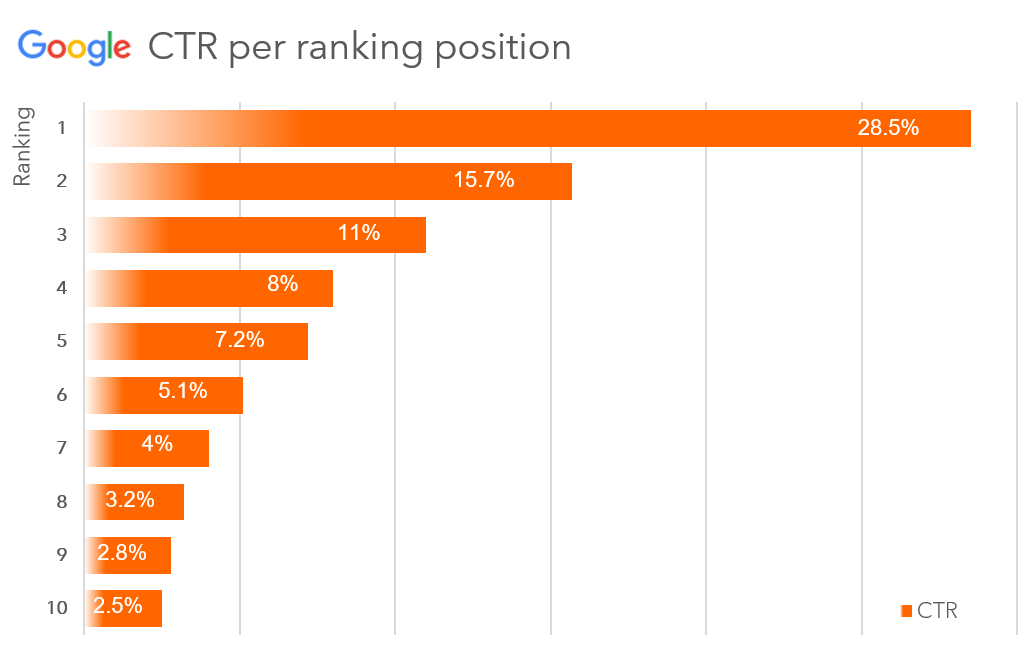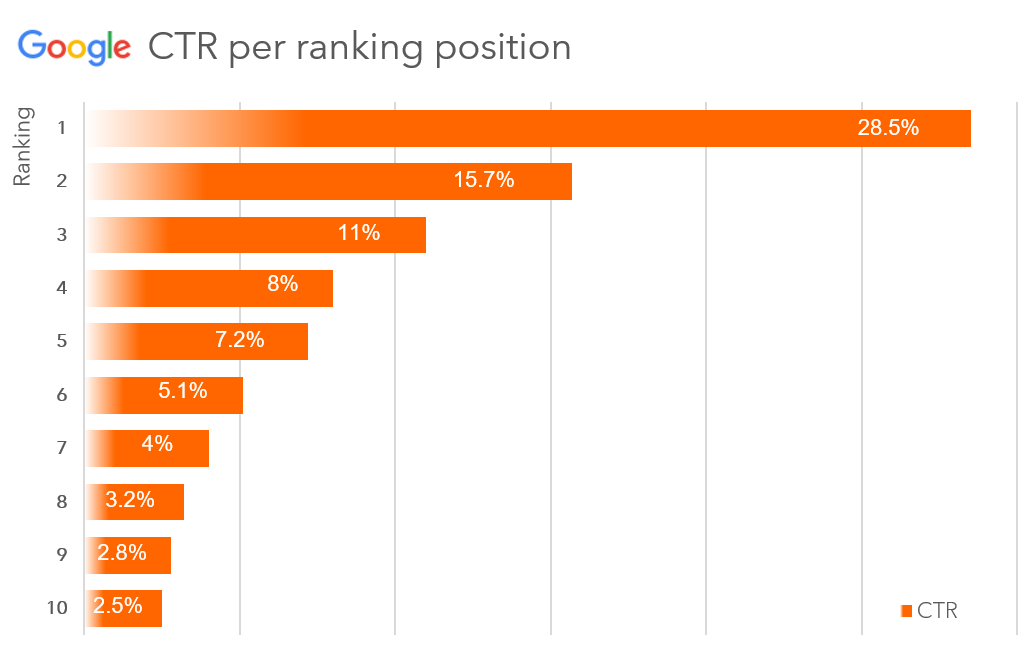 CTR data according to a study by Sistrix
From the above, we know how important it is for your website to get a top ranking so that people can find your services. With the rising importance of going digital, SEO has become a core part of digital marketing strategies with more SEO vendors coming into business in Hong Kong. For businesses planning to hire an SEO agency in Hong Kong, we will share the key criteria to consider to pick the right agency.
What is SEO and how does it work?
For those who are not too familiar with SEO, SEO stands for "search engine optimization" Put simply, it means the process of improving your website to increase its presence (or improve your ranking) in search results on search engines like Google.
Search engines like Google use bots to crawl, read, and index webpages from site to site. SEO tactics aimed at improving your website's structure, content, and page elements so that search engines can better understand your web pages and relate them to the relevant queries. If a search engine thinks a webpage is more relevant to the given query, the site gains a better ranking.
What does an SEO company do?
Different SEO vendors might be strong in different areas. But to build a solid SEO foundation, it is crucial that the SEO company can support and cover different aspects of SEO comprehensively.
Core SEO solutions that an SEO company should provide includes:
Website audit
Technical SEO
On-Page SEO
Off-Page SEO
Keyword Research
SEO Content Creation
Backlinks building
Tracking and Reporting
An all-rounded SEO vendor allows your website to grow comprehensively with a healthy online presence for long term.
What should I look for when picking an SEO agency?
There is a great variety of SEO vendor choices available in the market. As a marketer, how should you pick your SEO vendor? Here you will find a list of key factors and important qualities.
With so many agencies to choose from, it's challenging to find an agency that can not only achieve your goals for growth but also provide the support, communication, and service that your team deserves. There are some key questions to ask if the company:
Provide your business with a dedicated account manager
Build customized strategies that support your company's goals
Deliver transparent monthly reports to your team
Answer your questions, emails, and calls fast
Offer technology into your strategy
Support your SEO strategy with additional digital marketing services
What should your SEO Company provide?
SEO technology – Tools and technologies to support data analytics
Data analytics is a core part of SEO with the objective to understand user search behaviour. SEO companies leverage different tools to collect data from various online channels to provide insights into how to improve your ranking.
You can try to understand what technologies they are adopting to generate accurate data and insights. Questions you may ask include:
Is their data collection method comprehensive and accurate?
What kind of data, and how much data can they collect for analysis?
At Aloha, our SEO team leverages the synergy of our SEO expertise and technologies. We collect accurate organic search data from various SEO tools, including our own developed SEO Platforms Quanery and Revamplify, as well as other 3rd party SEO tools.
Great showcases and testimonials
When choosing a vendor, it is important to check what are their existing clients and what they say about the vendor. One way to do so is to look for case studies and customer testimonials on their website and social media pages.
You can read their customer showcases which should provide you an outline of their campaign objectives, strategies and results. From there, you can understand more whether the agency delivers tailored SEO solution to cater to their client's business goals and objectives rather than just a general one-size-fits-all SEO package. The results also provide a rough framework what kind of ROIs you can expect from the SEO campaigns.
You can also look for industry recognition that the SEO company has gained to have a more objective vendor evaluation. Every year, local, regional, and global organizations host awards and certificates to acknowledge outstanding businesses and services. You can take reference from Marketing Magazine's MARKies and Agency of the Year awards where there are specific categories dedicated for Hong Kong digital marketing industry.
For example, Aloha's excellent digital marketing tech and solutions received industry-wide acknowledgment every year from Google, Marketing Magazine and more. Our best-in-class SEO solutions have been awarded "Best Use of SEO" in 2 consecutive years 2019 and 2020 by Marketing Magazine. Check out Aloha's recently attained awards and recognition.
Long-term integrated online strategies
SEO a long-term ongoing effort as the online landscape is continuously evolving. That's why your SEO consultancy should not only emphasize on bringing short-term ranking growth, without a vision to consider future possibilities. Instead, it should develop a solid SEO foundation with long-term optimization strategies.
We also recommend seeing what other digital marketing offerings the digital marketing company can provide to you so that you can have the flexibility to scale up and grow your online presence further. SEO is the foundation for a website's online presence, but other digital channels like social media, display ads and SEM also play a crucial role in shaping the overall customer experience.
Don't hesitate to speak to the agency to understand their SEO experience. 
Aloha is a digital marketing tech and solution company founded in 2016 by a team of passionate digital marketing experts specializing in SEO, data analytics and digital media management.
Do send us an enquiry to find out more about our digital solutions portfolio!